The 2021 regular session of the Texas Legislature has come to an end, after 140 days of deal-making, drama, and dysfunction.
According to data from the Texas Legislature Online, the number of bills introduced and passed during the 2021 regular session was down from previous years. In fact, a bill's chance of success (being passed into law), has steadily decreased in the past four regular sessions.
This year, 9,966 bills were introduced and 3,416 of those bills passed—a success rate of about 34%. By comparison, the bill passage rate was 54% in 2015, 46% in 2017, and 42% in 2019.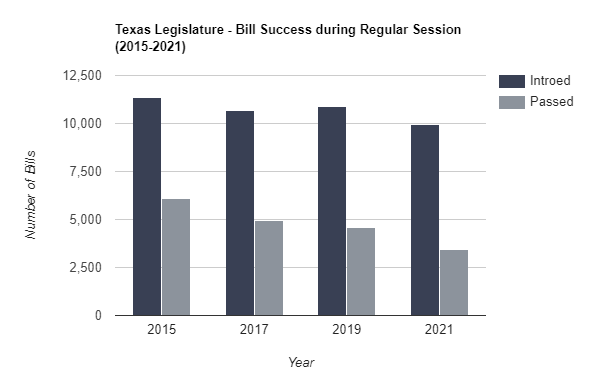 Our recent blog posts have discussed bills relating to alcohol to-go, sports betting, daily fantasy sports, recreational marijuana, and cryptocurrency. While many of these bills failed, there were some notable victories.
Alcohol to-go
HB 1024—Effective May 12, 2021. On May 12, 2021, Governor Greg Abbott signed HB 1024 to permanently allow beer, wine, and mixed drinks to be included in pickup and delivery food orders. Texas restaurants had been able to sell alcohol to-go since March 2020 under an executive order. Making alcohol to-go permanent picked up bipartisan support during the legislative session.
Sports betting
HB 393—Dead. As introduced, HB 393 would have made it legal to win prizes in daily fantasy sports contests and season-long fantasy sports.
Daily fantasy sports
HJR 68—Dead. HJR 68 proposed a constitutional amendment that would legalize online-only wagering on professional and collegiate sporting events.
Recreational marijuana
SJR 16 and HJR 13—Dead. These bills proposed putting the question of recreational marijuana legalization to Texas voters by constitutional amendment. SB 140, SB 269, and HB 447—Dead. These bills would have legalized the possession of up to 2.5 ounces of cannabis by anyone over the age of 21, for personal use.
Cryptocurrency
HB 4474—Sent to the governor on 5/31/21. HB 4474 defines "virtual currency" in the Uniform Commercial Code and clarifies that the "take free" rules apply, which means innocent purchasers of virtual currencies take free of any adverse claims as long as they didn't defraud the seller. Caitlin Long, CEO and founder of crypto bank Avanti, says there is a "gaping hole" in this bill—there is no mechanism for a lender to establish an enforceable lien on virtual currency. This is a problem because crypto-related lending in various forms has become a major part of the crypto industry. "Enacting this bill may cause legit lenders to leave Texas," Long warns, because the UCC take-free rules would override legitimate claims of lenders.

HB 1576—Sent to the governor on 5/26/21. HB 1576 creates a working group to develop a master plan for the expansion of the blockchain industry in Texas and recommend policies and state investments in connection with blockchain technology.

HB 2199 and SB 1077—Dead. HB 2199 / SB 1077 would have created a separate working group to develop recommendations for the use of "digital identity" in Texas and identify optimal policies and state investment related to digital identity technology.

SB 344—Dead. SB 344 would have provided that Texas governmental agencies must accept valid electronic signatures that employ blockchain or distributed ledger technology for: (1) the issuance of an apostille by the Texas Secretary of State, if the apostille may be signed using an electronic signature; or (2) government contracts.
If a bill is sent to the governor within 10 days of the final adjournment of session, he has until 20 days after lawmakers gavel out to sign the bill, veto it, or allow it to become law without a signature.
If your bill failed, all is not lost. Texas laws and regulations can be influenced by at least three non-legislative means, which we discuss in our blog post "Non-Legislative Alternatives to Achieving Public Policy Goals."